EverTune Guitar Bridge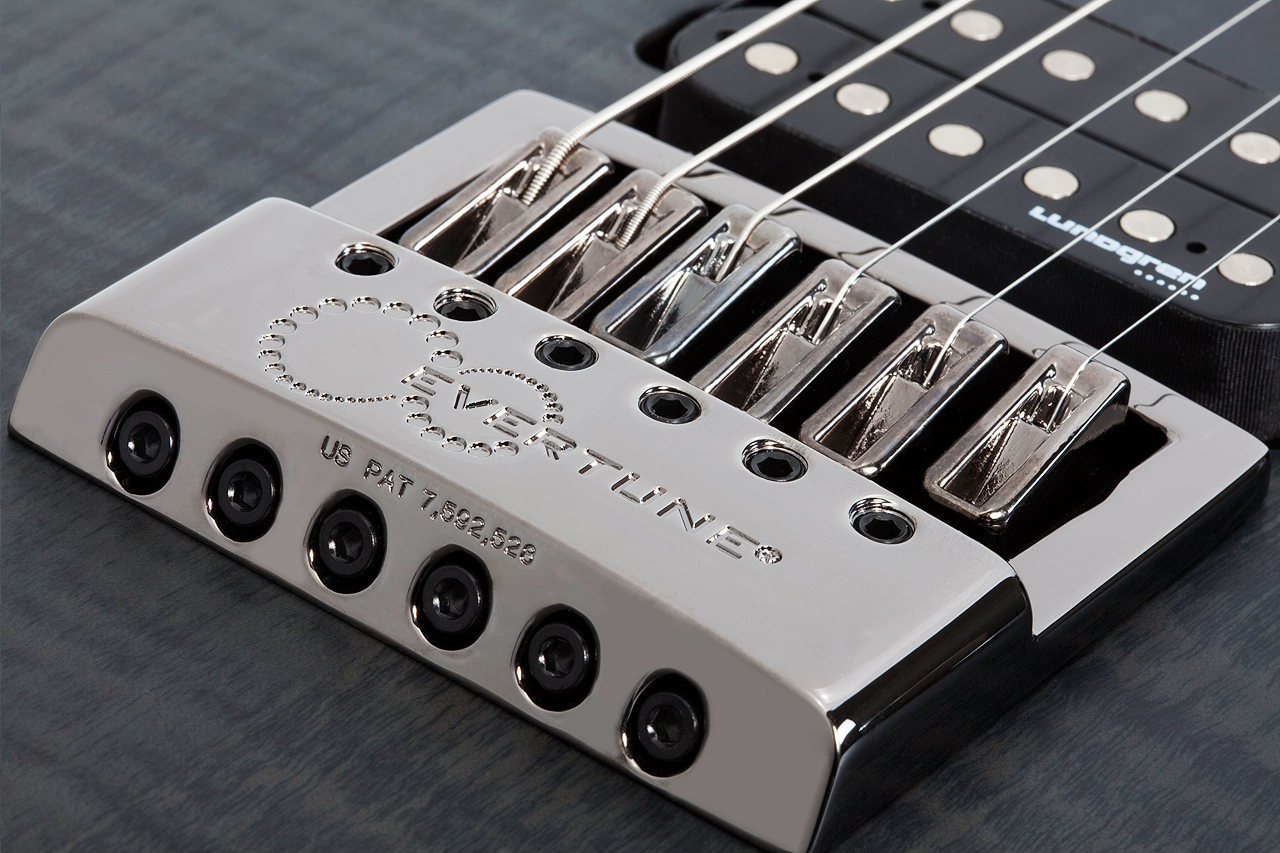 EverTune Guitar Bridge
Since 2011
A whole new way of approaching the art and science of keeping guitars in tune and intonated.
The EverTune is a revolutionary, patented, all-mechanical guitar bridge system that keeps guitars in tune under any conditions. Using nothing but clever physics in combination with a system of springs and levers, EverTune maintains constant tension on each individual string, keeping the guitar in perfect tuning indefinitely.
Enjoy the freedom that comes with unwavering stability, from the lowest note to the highest.
Enjoy the freedom that comes with unwavering stability, from the lowest note to the highest.
Available in 6, 7 and 8-string versions.
Available in 8, 7 and 6-string versions.
Once the bridge is set up to the desired tuning by the user, it will stay in tune -- regardless of extreme playing techniques, huge bends, heavy picking, or drastic temperature or humidity changes. EverTune accomplishes this while still allowing for subtle, expressive playing techniques such as vibrato and string bending with even greater stability than a standard fixed bridge.
This gives the player the freedom to focus purely on performing, completely confident that nothing will throw the guitar out of tune.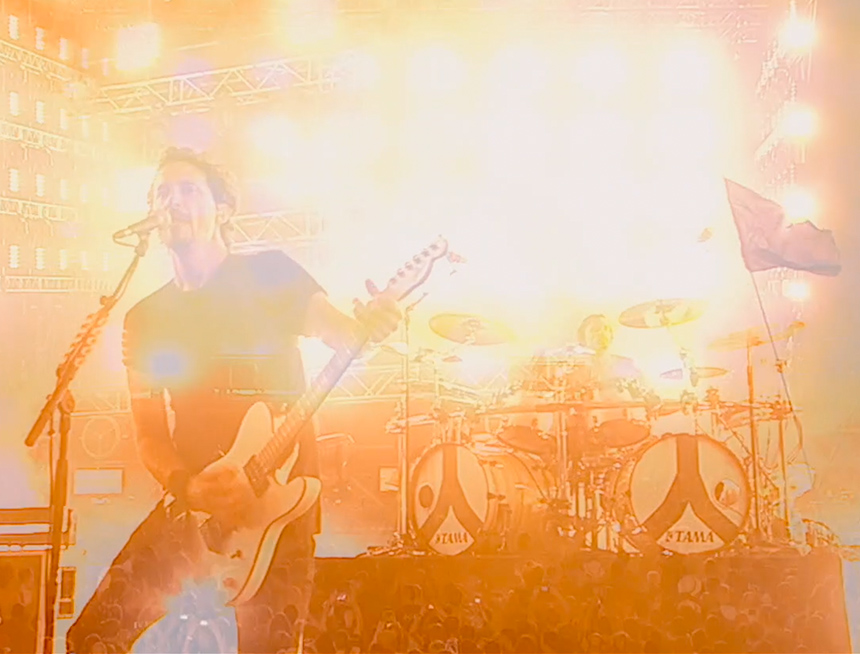 In the studio, EverTune-equipped guitars make for amazingly dependable and accurate instruments. Always in tune when the inspiration strikes for the best take, and saving untold hours normally spent checking tuning between takes. Because EverTune works dynamically, in real time, to maintain constant string tension, it provides perfect intonation across the fretboard, so no more retuning to make specific chords sound in tune. Now overdubs across multiple octaves will all be in tune with one another.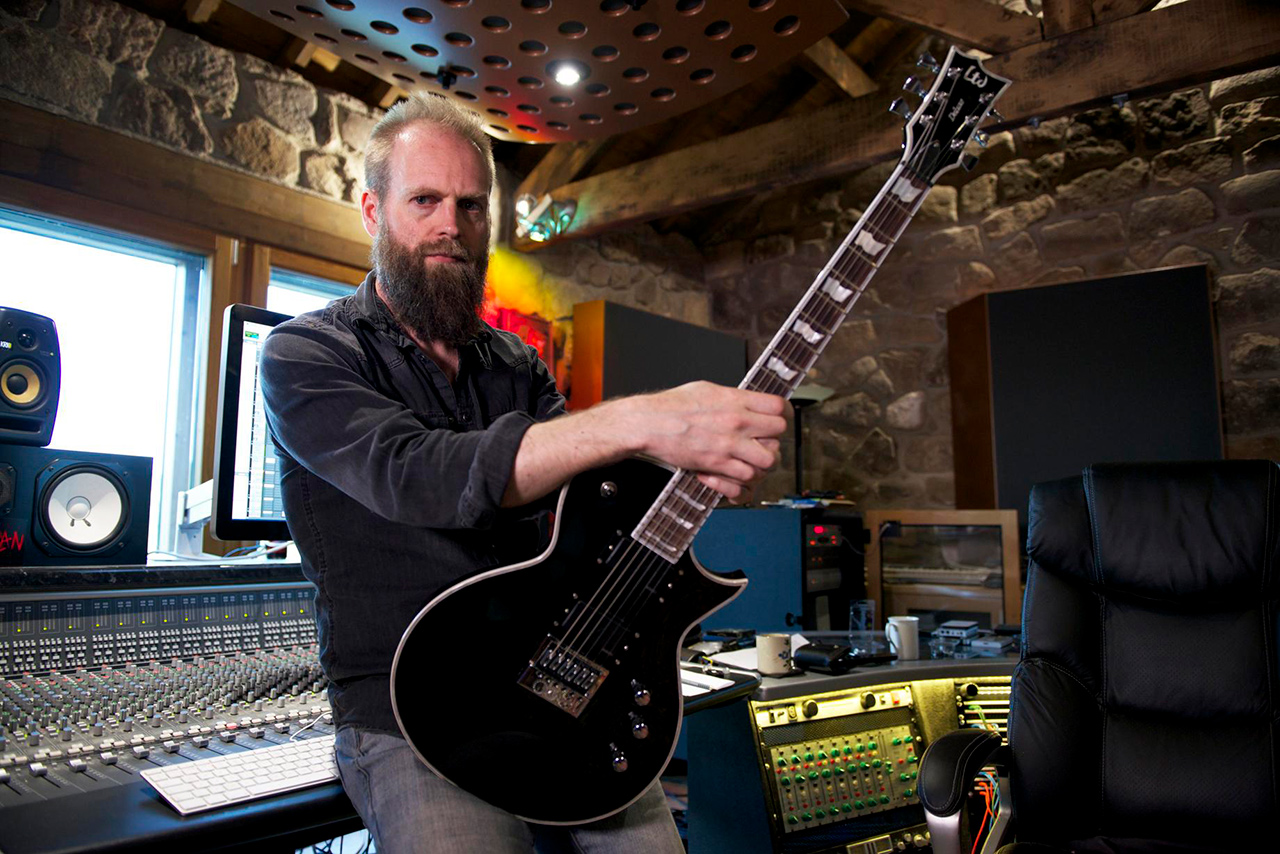 Sound too good to be true?
It's not.
Video Demonstrations & Reviews
The intelligently designed EverTune guitar bridge system definitely has to be experienced first-hand to be fully understood and appreciated
, but the following videos can give you an idea of how well EverTune actually works in real life. Check out how the benefits of this system can help guitar players.
Info

context

Info

context
Info

context

Info

context
Info

context

Info

context
We hope that you now have a better understanding of why EverTune is being used by guitarists all over the world, including famous touring professionals, producers, songwriters, and session players, as well as passionate enthusiasts who simply want better tuning and intonation.
Additional videos can be found on YouTube including reviews from our official endorsers, influencers, and enthusiastic EverTune customers.
Advantages of the EverTune constant tension system:
Remains in perfect tuning under any conditions
Built entirely with tried-and-true technology. Fully mechanical, using physics, springs, and levers -- no electronics, batteries, motors, or digital technology of any kind
Uses high-quality materials for best tonal properties
Maintains a traditional playing feel
Bending and vibrato are totally possible, as with any guitar
Can optionally be set up to compensate for -- and prevent -- any change in pitch, perfect to accommodate a heavy pick attack or an overzealous fretting hand, live or in the studio
Compensates in real time for finger pressure, hard fretting, hard picking, misshapen nuts and frets and therefore improves intonation across the entire fretboard
Capos can be put on and removed without ever having to retune any strings, a huge benefit in live settings
Only bridge design that can truly keep both the attack and the sustain of notes perfectly in tune
Easy to set up once the user understands the setup procedure
Can be set up for any desired tuning, including alternate and low tunings
No spring noise. EverTune's proprietary damper and buffer system ensures silent operation
Highly reliable on the road and in the studio
Can be set for on-the-fly drop tuning (switching between entirely different tunings requires a full setup)
No user maintenance required
Testimonials
Check out the feedback that we have received over the years from builders, artists and customers.
"The EverTune is an advancement in the guitar that I never imagined could be possible. Having recorded seven albums in the past with Trivium, having to constantly tune guitars during tracking is what would always slow down workflow and stifle the vibe. When going into recording our eighth album, our producer Josh Wilbur suggested that I install EverTune bridges on my guitars to stabilize intonation and eliminate having to tune entirely. I did not believe him at first. After outfitting my guitars, our entire album's rhythm guitars were done in two short days. Typically an album takes about five days with tuning and intonation adjustment. I find that with the EverTune, I can finally pick freely. I was able to pick harder than ever, and really dig into the guitar. On our latest record, you can hear the intensity of the right hand because I was free from worrying about striking a note too far out of pitch. I am hooked. I'm not going back to conventional bridges, in the studio, or on tour. I feel like I'm finally playing more like me than ever."
Matthew Kiichi Heafy
Trivium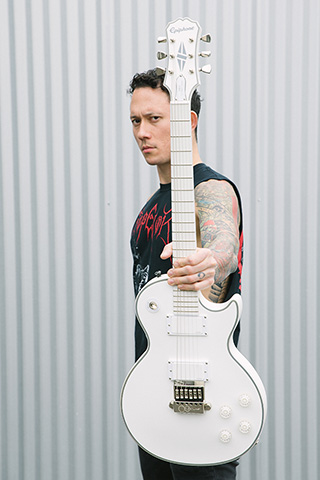 "I brought it into the studio, and it was an absolute revelation. I mean, the difference was like night and day. I've worked with some of the top producers in the world. After every take they'd say, 'Check your tuning, check your tuning, check your tuning.' I got tired of hearing that. Now nobody says that to me."
Steve Stevens
Billy Idol
,
Deadland Ritual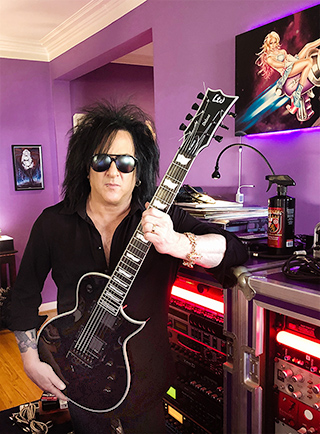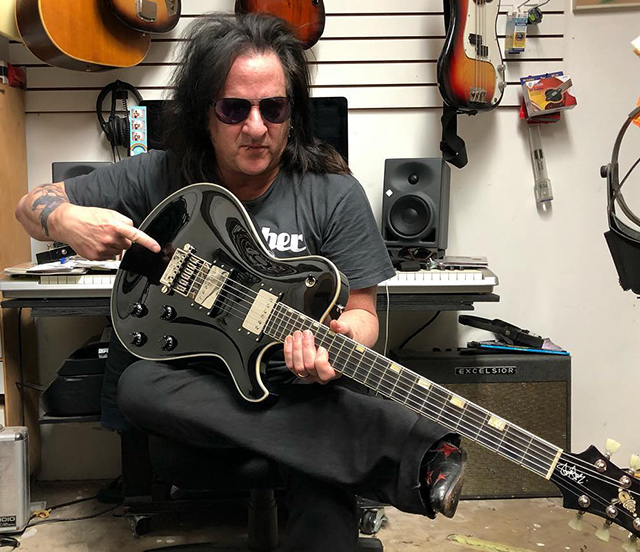 "The EverTune Bridge system is a historic innovation in the advancement of guitar. To play a guitar that stays in tune is more exciting than words can express. Either in the studio, on the stage, for the novice or seasoned pro and all levels in between, this revelation in bridge design is a gift to all guitarists. At a recent session I needed a capo, and the supplemental benefit of not having to re-tune the guitar made my day!"
Lyle Workman
Guitarist for Sting, Beck,Todd Rundgren; composer for films such as Superbad, 40 Year Old Virgin, Get Him to the Greek, and more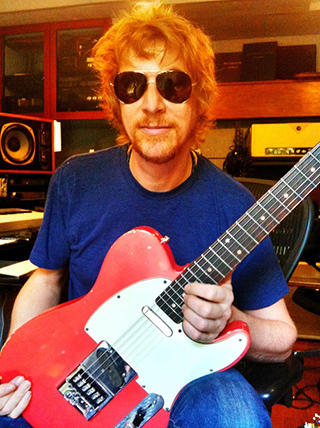 "I predict that Evertune will be the company standard of all leading guitar brands within the next 5 years."
Kristofer Elemyr
"I think the EverTune Bridge will go down in history as the most important invention for stringed instruments since Les Paul electrified them."
Clint Black
Country Music Legend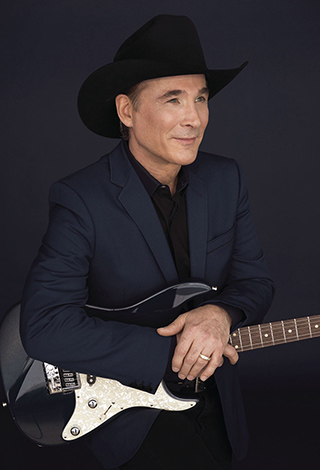 "What I came to learn during the process of tracking guitars for our upcoming album was mind blowing to say the least. Not only does the EverTune system greatly increase the efficiency whilst in the studio, it allows the player to well… just play. That's where this system shines. As a guitar player and songwriter, my main concerns are playing well and crafting a well-structured piece of music. The EverTune allows just that. It eliminates any and all concerns brought about by tuning and intonation problems. To say that I'm stoked about my EverTunes is an understatement. If you haven't tried the EverTune, I strongly encourage you to. You won't be disappointed."
Willie Adler
Lamb Of God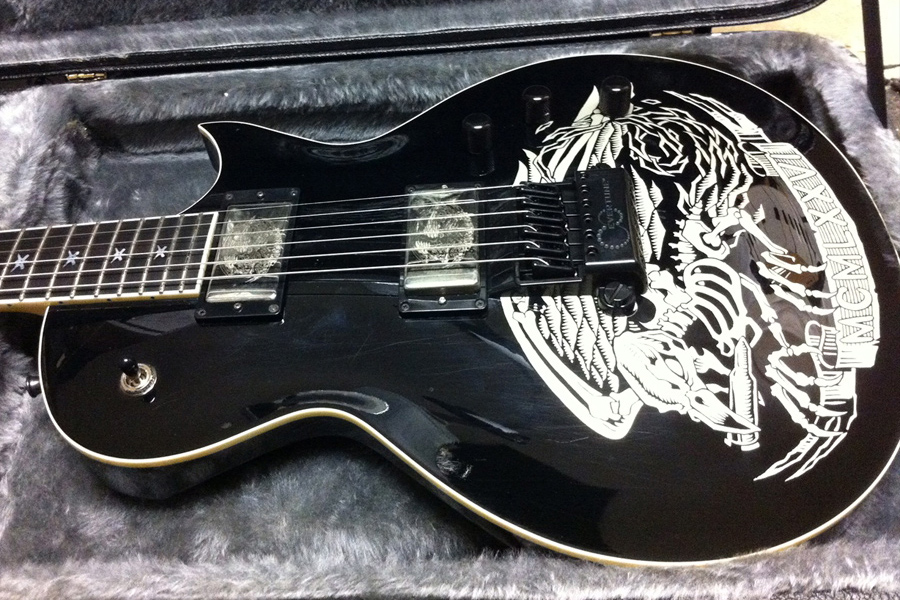 "I've never heard chords sound like this, ever. I can play triads all the way up the neck and they're all in tune. That blows my mind. If you have a guitar you love but it has issues playing in tune, EverTune will be perfect for it. I've installed a lot of these, and most people don't stop at one."
Gary Brawer
Tech for Joe Satriani, Metallica, Neal Schon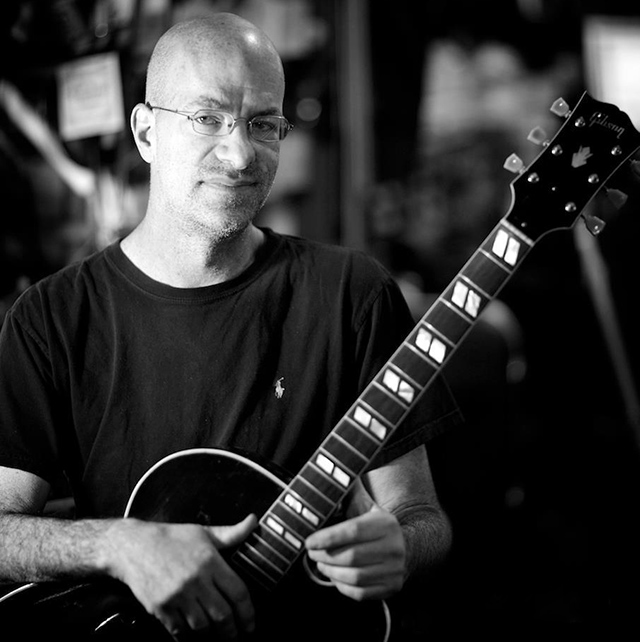 "A lot of people have been asking me what I think of the EverTune system. What do I think? WITCHCRAFT. Absolute witchcraft. I think it's an astonishing feat of engineering. Bravo!"
Dylan Humphries
Daemoness Guitars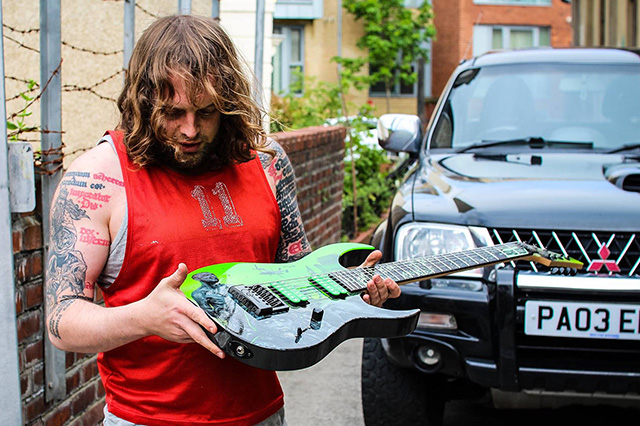 "Got my new ESP LTD EC-1000 EverTune guitar Thursday... and two days later did a two-hour outdoor NASCAR gig with it. Zero. Tuning. Required. Absolutely amazing. EverTune is the real deal—no hype! Just completely delivering on its promise!"
Brian Dotson
"I've played over 100 shows since I started using the EverTune bridge and have not had to tune my guitar once during a show. I don't know what kind of alien technology EverTune is using to make these bridges, but it's incredible."
Ahrue Luster
Ill Niño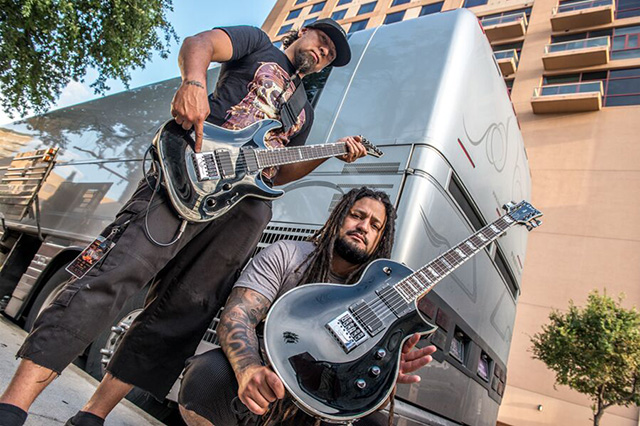 "Rocking my EverTune-equipped guitar at my band Outspire's show last night. 25 songs in a row...zero tuning issues. Thanks guys!"
Gellert Domany
How do I get an EverTune bridge?
There are different options available when it comes to getting your hands on an EverTune bridge equipped guitar:
purchasing one of the factory-equipped or aftermarket-retrofitted EverTune guitars available on our Shop page (which come ready to play right out of the box); using our installation service, where we EverTune retrofit your dream guitar in our shop; or ordering the bridge separately and having one of our verified installers perform the installation
Available Guitar Brands
More and more great manufacturers are getting on the EverTune bandwagon, and offering beautiful EverTune-equipped instruments directly from their factories.
A diverse array of cool guitars are available right now from awesome companies like B.C. Rich Guitars, Cort Guitars, Dean Guitars, ESP Guitars, Framus & Warwick, Ibanez Guitars, Jackson Guitars, Ormsby Guitars, Schecter Guitar Research and Solar Guitars.
Evertune Aftermarket Upgrades
EverTune bridges installed by EverTune. Meticulously quality controlled and set-up by the people who designed the revolutionary bridge system.
GUITAR Subscriber Offers & News
Limited-time EverTune discounts
offered to subscribers first.