Featured EverTune Artists

Tim McIlrath
and

Zach Blair
EverTune Featured Artists Rise Against are an American punk rock band from Chicago.
The group's current line-up comprises

vocalist/rhythm guitarist Tim McIlrath

,

lead guitarist Zach Blair

, bassist Joe Principe and drummer Brandon Barnes.

Rooted in hardcore punk and melodic hardcore, Rise Against's music emphasizes melody, catchy hooks, aggressive movements, and rapid-paced tempo. Lyrically, Rise Against is known for its outspoken social commentary, covering a wide range of topics such as animal rights, economic injustice, environmental disasters, forced displacement, homophobia, modern warfare, and political corruption.

With a career spanning two decades, Rise Against have released nine albums.

As early EverTune adopters, Tim and Zach have been recording and touring with their EverTune'd Gibsons since 2014's The Black Market with producer Bill Stevenson. Wolves was recorded in 2017 with Nick Raskulinecz, who some of you might recall worked with EverTune users Munky and Head from Korn on their "The Serenity of Suffering" album.

Certified EverTune installer Fren at Asken Guitars has been installing their bridges since 'Day One'. Above, LPs in Fren's workshop prior to last year's tour. While chatting about Rise Against, he says "Tim and Zach are both really easy going, down to earth and enthusiastic people. As professional musicians, they just want stuff to work."
Says Tim:
"Evertune keeps our guitars in tune, which frees a lot of time to be more creative and worry less about the technical aspects. Yes, it is a nerdy musician thing, but it helps us deliver the best performance we can in the studio and live."
When asked about his live rig, Zach adds:
"I play these Les Pauls because I play really hard and they can take a beating. I mean, we take care of our stuff, but even if it's small stuff like clip straps rubbing the paint off the guitar, I want to use guitars I can put stickers on and scratch up and not really care."
On EverTune:
"It's voodoo technology. For us, it works. Once you set it, it's done. I don't tune once during our set. It's amazing."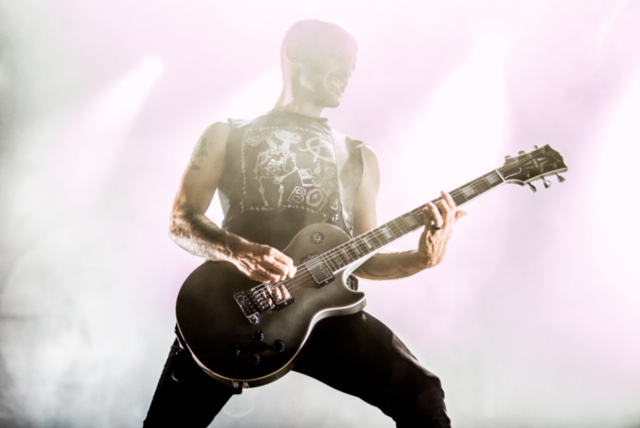 Tim wraps up, touching base on his initial epiphany as a musician:
"Once I heard punk rock, it made me really want to learn how to play the guitar. Because when you heard 80's hair metal back in the day, those guitar players were uber talented. It was like 'we're not human beings, we are next-level super heroes -- you can't do what we do'.

But when I heard The Ramones, and I heard like Minor Threat, and I heard all that, then I was like 'this is something I can be a part of'."
"So in that regard, I'm not really a guitar person, I see them as tools. It doesn't matter what you have, it kinda matters what you do with it. For me, it's always been about writing songs, and playing shows, and practicing and playing. The guitar itself doesn't really matter, what matters is what you're doing with it.".
And EverTune?
"I just like it that I'm finally fucking in tune."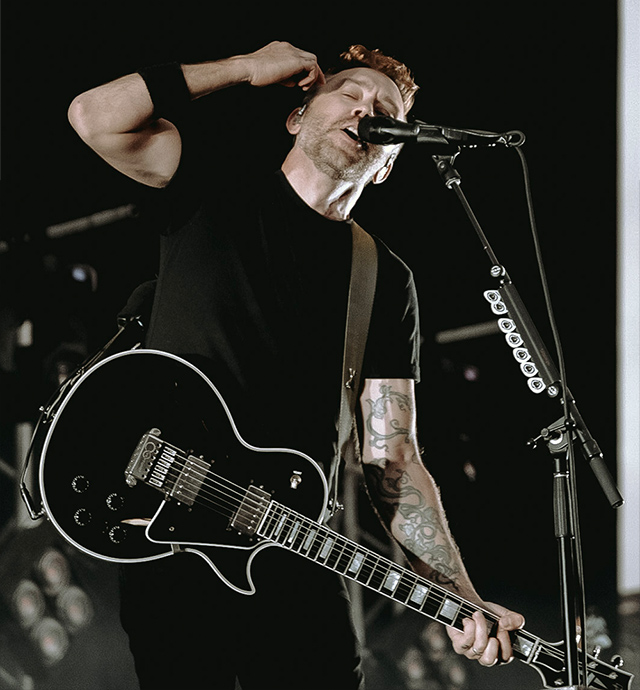 GUITAR Subscriber Offers & News
Limited-time EverTune discounts
offered to subscribers first.