MAIN LINKS
Music
2021 US Tour
Baptize Tour with Atreyu, Crown, The Empire, SAUL, and Defying Decay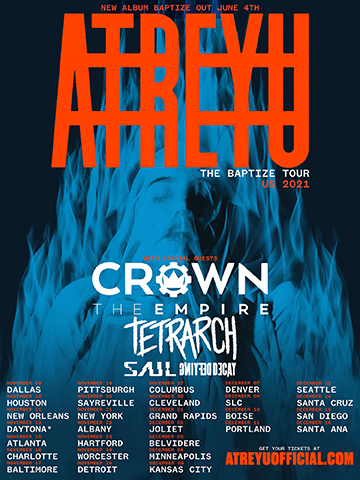 EverTune Featured Artists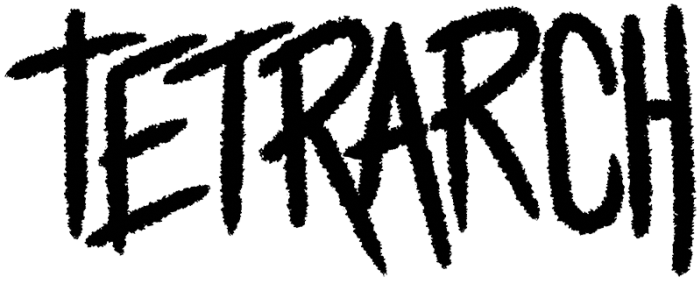 Diamond Rowe
and

Josh Fore
Tetrarch is one of the hottest new metal bands on the planet, and guitarists Diamond Rowe and Josh Fore rely on their EverTune-equipped ESP guitars to deliver their heavy riffs and melodic solos. The rising stars inked a deal with Napalm Records and recently released their full-length effort, Unstable. Fueled by the massive single "I'm Not Right" (the video, which features Diamond rocking an LTD EC1000 with EverTune, is currently at over 2 million views), Unstable seems like all they need to take their brand of melodic hardcore to the next level. Diamond and Josh spoke to EverTune about music, gear, and overcoming the fear of changing strings.
Talk a little bit about how you first discovered EverTune and what you thought when you first heard about it? Josh: I heard about it two years ago or so. We saw it being used by some guitar players that we grew up watching and listening to. What is this weird bridge? It looks really funky. Then Diamond got an ESP that had it already installed. We started playing it and were blown away—the solid tuning even when you tune down low.

Diamond: We heard some talk about it while we were touring. There was a buzz going on about this new bridge technology. We're endorsed by ESP and we noticed that a lot of their guitars came from the factory with EverTune bridges. They gave me one that had it on there and we haven't looked back since.
Did you use EverTune guitars in the studio? Diamond: Yes, we were in the studio for about four months or so, and we only used guitars with EverTune bridges. We tune to drop A, sometimes drop B, but we like the playability of a 6-string guitar, as opposed to 7-strings. Especially with the low tunings, the technology really works. I was amazed that the pitch of the low strings didn't jump.

Josh: Diamond and I played different string gauges; hers are super light and mine are super heavy. When we recorded this album we played each other's guitars, and it was interesting for me to play her guitar with the light strings and not get that weird tuning sound that light strings can give you. It was so solid. Our producer said "I feel like I should tell you guys to tune but you don't need to. There's obviously no point." Every time we checked, it was just bang on.
What did you notice in the studio when you started layering EverTune guitars as opposed to when you would double or triple track with "regular" guitars? Josh: A lot of times when you double a guitar, you can hear that double prominently. With the EverTune guitars, the overdubs were so perfect, we found we could stack more guitars than we typically would and they were so in tune they didn't compete with each other.

Diamond: We really made our producer, Dave Otero, a believer after recording our last album. He works with a lot of really heavy bands like Cattle Decapitation and after being in the studio with us using these bridges, he instantly hit up ESP and got himself some EverTune instruments. It delivers every time.
What was it like when you played your EverTune guitars on stage? Diamond: This is funny. I'm not the most tech savvy person. When I got my first EverTune, I thought to myself, "I really don't want to mess anything up on this…" So, I kept the same strings and the same tuning on it for 30 days [laughs].

Josh: Our guitar tech was trying to explain to us that EverTune is not this big scary thing to set up or change strings on. In fact it's easier to change strings than any guitar ever. But she was so terrified of it that those strings stayed on! But it stayed in tune perfectly. It was played every day and it never went out of tune. Diamond: That is not recommended, leaving your strings on that long when you're on the road! But it worked and it never went out of tune. We've come a long way since then, but I can attest to this fact: I proved to everybody that you can keep the same strings on for a month and the tuning will not budge.

Josh: We went through all kinds of temperature changes during that time and the guitar stayed solid.
How do you like to set your bridges? Josh: I play a lot of I play a lot of rhythm whereas Diamond plays a lot of leads, so she's closer to the Bend Stop so she can bend strings really easily. I like to be in that super-solid place, deeper in Zone 2 where it's almost like a static tuning. That really helps us keep that big sound held down and in tune.
Were you surprised that the video for "I'm Not Right" blew up the way it did? Diamond: We've always had really high goals, so we hoped for that. But you never know what's going to happen, and we were definitely very, very happy.
Subscriber Offers & News
Limited-time EverTune discounts
offered to subscribers first.