This offer is available worldwide until December 31st 2023. Discounts will be automatically applied to cart. *Excludes ESP & B.C. Rich Factory Equipped guitar models, and EverTune installation templates.
F Model
For 6-string Strat-style guitars.
Ambidextrous.
Will EverTune fit my guitar? | Which model should I get? | Can I install this myself?
Included with each bridge
Every new EverTune bridge comes with a service pack.
This includes an EverTune hex key (matched to the faceplate color), an extra set of action screws and a printed Owners Manual. If the installed set of action screws is 8mm then the service pack will have 10mm screws; if the installed set is 10mm then the service pack will have 8mm screws.
Every new bridge also comes with a comb and backplate.


Installation notes
Minimum Body thickness for an F&T install is 1 3/4".
Any guitar body thickness less than 1 3/4" will require the foot plate to be installed on top of a custom back plate riser to ensure proper positioning of the modules.
Zone 2 Variation Tolerance
Zone 2 can have some slight variation.
If the pitch change is less than 7 cents from playing position to one half turn down into Zone 2 then the module's Zone 2 is within spec.
One half turn means loosening the tuning peg at the headstock by a turn of the wrist.
Legal
Warranty Info
We offer a one year warranty on all new EverTune bridges to the original purchaser. This warranty excludes physical damage caused by the player and normal aging effects such as rust.
Shipping Policy
We ship guitars and parts within 10 business days of payment. The customer will be notified if any items on the order are out of stock within 3 business days of payment. If selected shipping method includes tracking, the customer will be sent an email with the tracking information upon shipment. Please check the contents of the order immediately upon receipt. Damages from shipping must be reported within 3 days of receipt.
Notes regarding Russian shipments:
USPS: We can only ship bridges, not guitars, to a residential address in Russia via USPS. Note: The USPS shipping option is very slow, there's little to no tracking available, and we cannot guarantee the delivery. We require customer confirmation before using this shipping method.
DHL: We can ship both bridges and guitars to Russia via DHL only if they are being shipped to a business address. Please be aware that Customs in Russia do not allow DHL shipments to be delivered to residential addresses.
Custom Charges
International customers are responsible for all customs duties and taxes. If you have any questions regarding these charges, please contact your local customs agency.
Return Policy
We accept returns on undamaged new items purchased at EverTune within 30 days from order placement and 14 days from guitar receipt (in hand), whichever is later. We will pay the return shipping costs if the product is defective or the return is a result of our error. No returned merchandise will be accepted without a Return Authorization (RA). We will credit you in the same manner as your original payment within 7 days of receiving the returned item. We have a 15% restocking fee for all returned items that are not defective or a result of our error. For questions regarding our return policy please contact us via the contact form on this site, or email lee@evertune.com.
Bridge Rebuild Options
Shipped with regular tension saddle modules in every string position, color matched to the faceplate.
---
➤ Bridge Rebuild
+ $30.00
Should the bridge need custom high or low tension saddle modules for certain strings -- or if you want different color option for the faceplate or any saddles -- we charge one $30 fee to swap them out at build time instead of $50 per saddle module when buying them separately.

If your desired tuning and string gauge requires custom modules (String Tension Gauge Calculator HERE), simply overwrite the default standard for any given string. The position is always starts from smallest string to thickest string, whether you are right-or-left-handed, or playing 6-7-8 strings.

For any other personal preference, type your instructions into the "Additional Notes" text field before placing your order.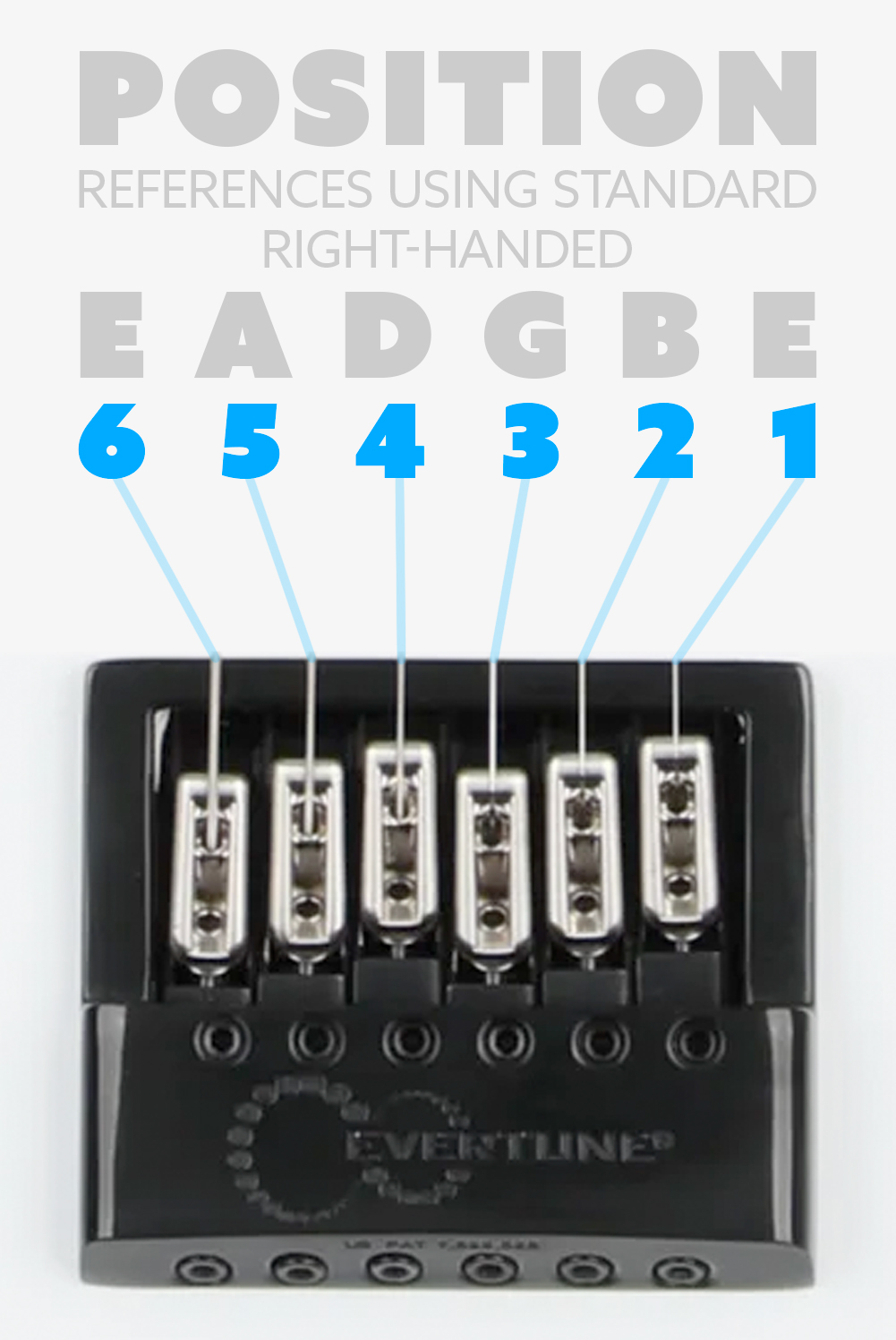 Verify if your desired tuning and string gauge requires custom tension modules with our STRING TENSION CALCULATOR HERE.
GUITAR Subscriber Offers & News
Limited-time EverTune discounts
offered to subscribers first.